【跟GNA一起去台灣同志大遊行】Join GNA this Taiwan Pride!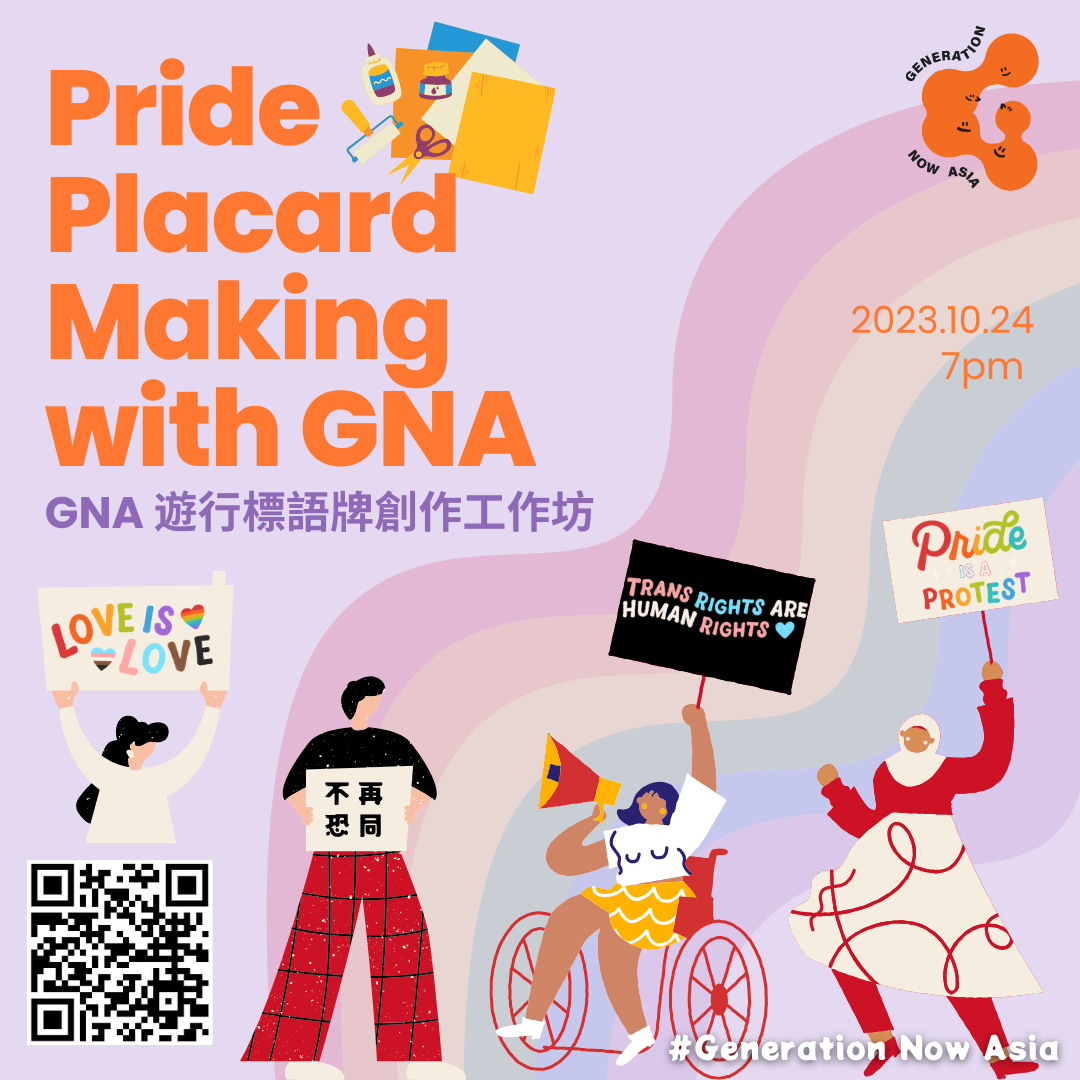 親愛的 GNA之友:
隨著一年一度台灣同志大遊行到來,GNA很高興公布:今年,我們將首次加入NGO遊行隊伍,一起上街為LGBTQ+權益發聲。
為此,我們想號召GNA之友和我們一起發想和製作獨一無二的遊行口號和標語牌。在此敬邀您參加我們的遊行標語牌創意工作坊,並於遊行當天加入GNA的行列!
🌟10月24日晚間7點一起來動手製作同志大遊行標語牌吧!
🌟10月28日星期六下午1點,快來加入GNA的遊行隊伍吧!
加入我們,一起慶祝LGBTQ+社群豐富的歷史:平權路上有你有我,不孤單。
🌟 我們非常重視包容性:GNA歡迎任何性別、性傾向和身分認同的夥伴加入我們的工作坊和遊行行列。
請分別填寫工作坊和遊行Google報名表單!
期待與你相見!
來自GNA愛的問候~
---
As Taipei gears up for this year's Taiwan LGBT+ Pride Parade, we invite you to join GNA for Placard Making and the Pride Parade Walk!
Let's come together to celebrate diversity and advocate for LGBTQ+ rights!
To make a powerful statement and show our support, we'll be creating vibrant placards that carry messages of love and equality. Join us on 24th October at 7pm for a fun and creative pre-parade event: Pride Placard Making with GNA
After creating our placards, we'll proudly carry them in the Pride Parade on Saturday 28th October. Join us as we march together in solidarity, celebrating the LGBTQ+ community's rich history and fight for equal rights: Walk Taiwan Pride Parade with GNA
These events are open to everyone, regardless of gender, sexual orientation, or identity - all LGBTQ+ friends, allies, and supporters are welcome.
Please RSVP to each event via the google forms to secure your spot and we look forward to seeing you there!
With love and pride!
GNA