GNA實習生招募中開放申請!GNA Internship program calls for applicants! (CN/EN)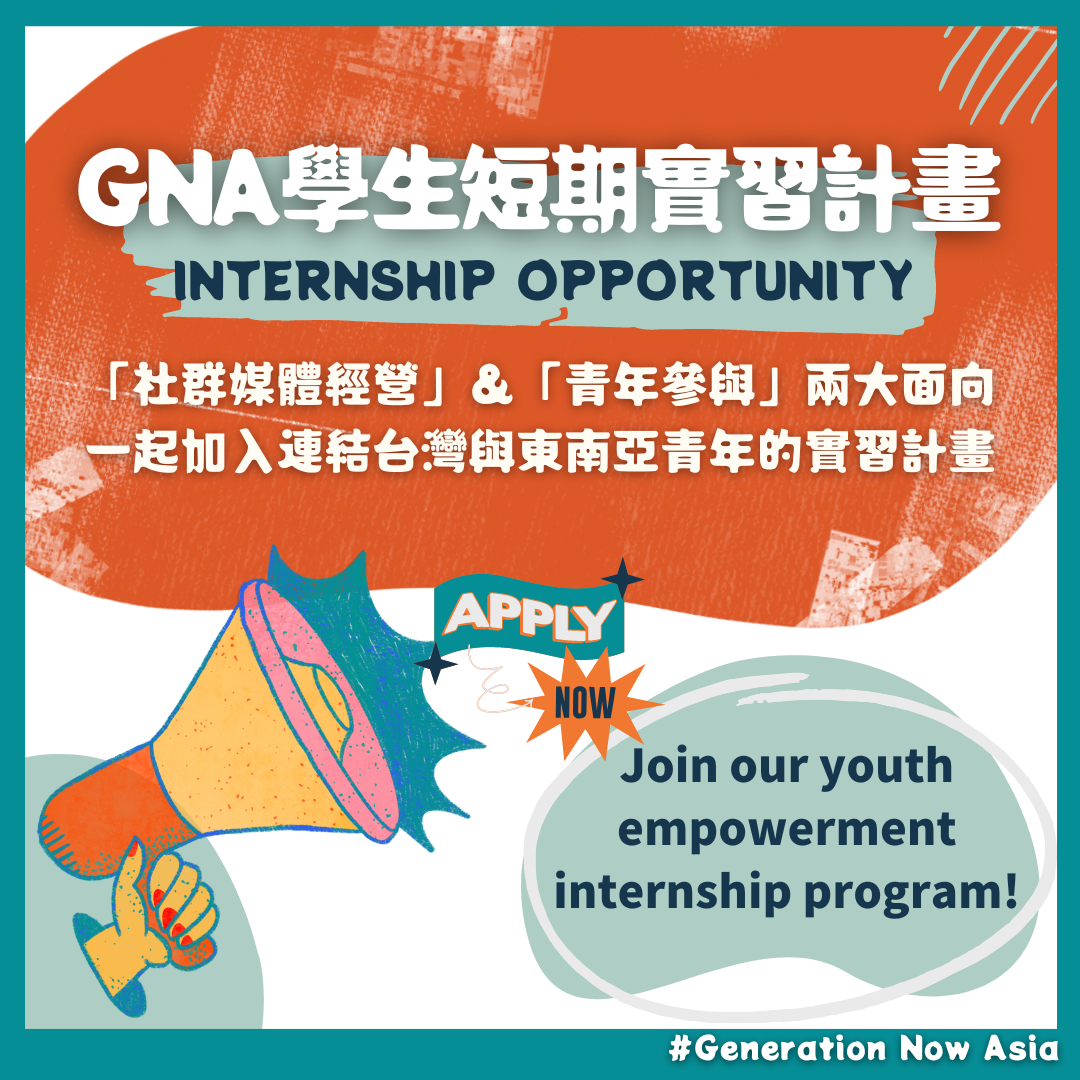 你是否希望為青年的生活帶來正面的改變?你是否相信教育、引導和社群的力量能夠改變未來?你是否希望與多元社會文化背景的青年共識?如果是的話,亞洲鬧世代GNA誠摯邀請您加入我們的實習計畫。
Are you passionate about making a difference in the lives of young people? Do you believe in the power of education, mentorship, and community engagement to transform the future?  Do you want to work with youths from diverse social and cultural backgrounds?  If so, Generation Now Asia invites you to apply to join our GNA Internship program.
---
實習計畫簡介
實習計畫總覽:
作為GNA實習生,您將有機會與我們的專業團隊密切合作,經營GNA的社群媒體平台和青年培力計畫。 這個實習機會能夠讓你或的在非營利部門的實際工作經驗,你將接觸到研究與撰文、翻譯與校對、校園活動籌備與舉辦、社群帳號經營與維護和專案計畫執行工作。同時,我們也提供基礎的培訓課程給實習夥伴,實習夥伴也將參與不同公民社會組織的活動與記者會!
Internship Overview:
As a GNA Intern, you will have the unique opportunity to work closely with our dedicated team to assist in GNA's social media operations and youth empowerment program.
This internship is designed to provide you with practical experience in the nonprofit sector, where you will gain hands-on experience in various aspects of community outreach, research, translation and program development. At the same time, GNA provides trainings for interns to enhance certain NGO skills. You will also be able to attend civil society activities and press conferences with GNA.

社群媒體營運職責:
每週你將廣蒐東南亞社會運動、人權與公民社會議題,協助撰寫網站和週報內容
協助將內容從英文翻譯中文,並編輯成社群平台內文
協助擬訂計畫來提升GNA的社群能見度
Social Media Operations Responsibilities:
Research weekly news about Southeast Asian social and civil society issues to help create content for social media and website
Assist with English to Mandarin Chinese translation and Mandarin proofreading
Contribute to communication efforts to raise awareness about our organization's mission and achievements

青年培力計畫職責:
支援GNA團隊舉辦青年工作坊和一系列教育活動,並以影像和/或文字記錄活動,以利後續評估和調整。協助推廣社群外展計畫,發展與當地大學和青年社團的合作機會。
Youth Empowerment Program Responsibilities:
Support the GNA team to plan and deliver engaging workshops and educational events for young people
Contribute to program evaluation efforts by writing records and reports on our initiatives
Aid with promoting community outreach activities, fostering relationships with local universities and youth clubs

---
我們希望實習夥伴具備以下能力和條件
申請資格:
對東南亞人權議題有興趣
流利的中文書面和口頭溝通能力
流暢的英文溝通能力
有台灣居留證和工作許可證
能夠獨立工作也能和團隊合作
優異的組織能力並能細心處理工作
熟悉Microsoft Office、Google Drive、社群媒體平台和基本電腦應用程式
Requirements / minimum qualifications:
An interest in human rights issues in Southeast Asia
Fluency and demonstrated excellent command of written and communication skills in Mandarin Chinese
Good command of communication skills in English
Taiwan's residency and work permit
Ability to work independently and in a team
Organizational skills and attention to detail
Proficiency in Microsoft Office, google drive, social media platforms and basic computer applications
其他資格:
社團參與或執行活動經驗
社群帳號經營經驗
NGO參與經驗
理解東南亞社會議題與人權議題
Other qualifications :
Experience in the implementation of activities or projects
Experience in social media account management
Experience in NGO relevant activities or internship
Understanding of social issues and human rights issues in Southeast Asia
---
實習條件
實習期間:
為期12週的實習計畫,每週至少需工作8小時
Duration:
12 week internship program
aprox 8 hours per week
其他詳情:
這是給薪實習計畫,實習將在GNA台北辦公室進行。我們預計將招募兩位實習生。
Additional Details:
This is a paid internship program
The internship will be held at GNA's office in Taipei City
This internship is open to 2 people

---
申請方式
申請方式:
請將您的履歷和申請動機信(英文500字以內,中文700字以內)發送到至hiring@gna.tw,郵件主旨為:"GNA實習計畫-OOO"。
GNA將邀請合格的候選人進行面試。如果有必要,GNA將要求二次面試。
Application:

Please send a document with your biography and your motivation to apply (500 words if written in English or 700 words if written in mandarin) to hiring@gna.tw with the email title: "GNA Internship Program-Your Name"
GNA will invite qualified candidates to an interview.  Before the in-person interview, the candidate will be asked to complete a written assessment at the assigned time. Once the assignment is submitted, GNA will arrange the interview with the candidate. If there is a necessity, GNA will ask the candidate for a follow-up interview.