Generation Now Asia bring together Taiwanese and Southeast Asian youth changemakers at their first GNA Youth Capacity Building Program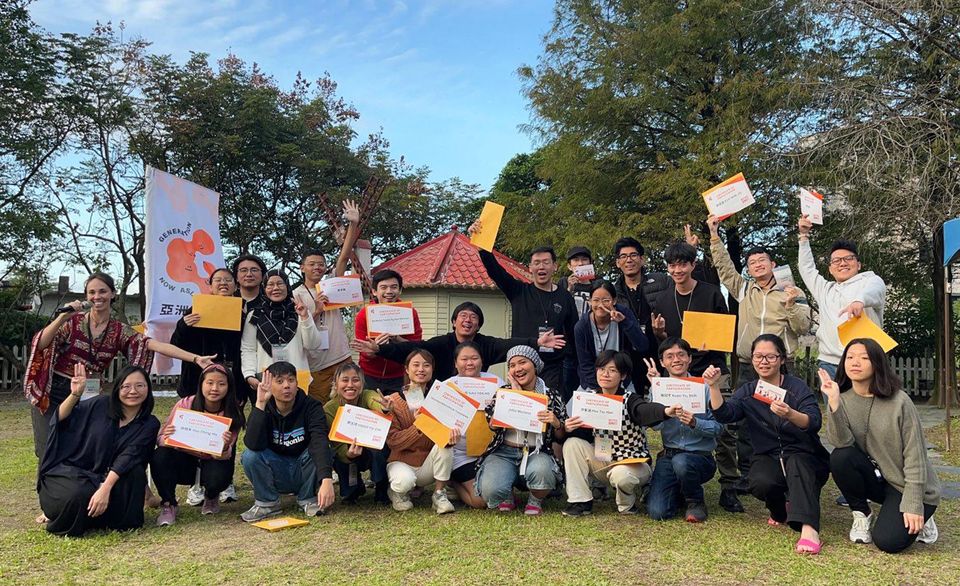 Generation Now Asia bring together Taiwanese and Southeast youth changemakers at their first GNA Youth Capacity Building Program
Generation Now Asia, a youth empowerment organisation, is excited to announce the triumphant conclusion of its 2023 Youth Program in Luodong, Yilan, held from 17th to 19th November 2023. This year's program was the first of what we hope to be an annual event that focuses on providing Taiwanese and Southeast Asian youth with capacity building skills.
The three-day residential experience for young changemakers brought together 23 youths from Taiwan, Thailand, Malaysia, Myanmar, Brunei, Cambodia and the Philippines.
Through a series of interactive and collaborative activities, the program offered participants the opportunity to actively engage in dynamic discussions and equip them with knowledge on human rights issues that connect Taiwan and Southeast Asia, while providing them with tools to strategize how to build their own campaign.
The program provided young people the opportunity to work alongside others from diverse cultures and social backgrounds to discuss together how they could take action, take care of their community and create change.
On the first day, GNA's program heard from NGO experts, Jing Ru Wu, Taiwan International Workers' Association (TIWA), Yi-hsiang Shih, Taiwan Association for Human Rights (TAHR) and Hsin Hsuan, Environmental Rights Foundation (ERF), who shared their knowledge and experience of the campaigns they are currently working on that connect Taiwan and Southeast Asia.
Jing Ru Wu commented: "It is crucial to consider how to accommodate and collaborate with people with various ideologies, diverse opinions, and individuals with different paths in social movements. This is also the significance of the youth empowerment camp; it allows people with different backgrounds, ideologies, and diverse opinions to come together, interact, and share with each other."
On day 3, GNA held a creative workshop that allowed participants to role-play how to communicate their campaign to the media, politicians and donors. For this GNA invited Chen Yi-Chien from Graduate Institute for Gender Studies, and Brian Hioe from New Bloom, to join and share their expertise.
The program's closing circle was a heartwarming space, with participants sharing:
"I've been working in the NGO sector for a period of time. Sometimes, it gets tiring, and enthusiasm fades away. However, this camp has truly energized me, and the experiences you've shared with me empower me." Earn, Thailand
"All the staff and the participants are supportive and kind to each other. I really enjoy my time with my teammates, although we use different languages, we still can have very productive and enjoyable discussions. It's an unforgettable experience." Ray, Taiwan
"This is my first time in Yilan. Despite the weather is cold outside, we're hot inside! I'm grateful for everyone I've met; you've helped me discover my goals in life." Kevin, Taiwan
GNA has also received further feedback from participants with one participant noting:
"​​Loved being a part of this community! The program has truly empowered me to take meaningful action. The support and resources provided are invaluable. Grateful to have found this inspiring group of people!"
Liang, GNA's Director closed the program with the following remarks: "In Taiwan, there are few opportunities for empowerment projects where you can understand regional human rights and civil society issues, especially in English. This is our first experiment. We will continue to provide these opportunities to empower the youth."
GNA believes the program was a remarkable success, featuring a wide range of enriching activities and experiences. We are looking forward to seeing how we can further support these youth changemakers with follow up workshops and have offered participants the opportunity to apply for a grant of 20,500 TWD to continue working on their campaign.
Generation Now Asia would like to extend our gratitude to all the participants and speakers who made this program possible and look forward to welcoming everyone at GNA's future youth empowerment program activities.
For press inquiries, interviews, or additional information, please contact:
Email: nuomi@gna.tw
Facebook: gnataiwan
Instagram: gna_taiwan